By Sierra Aceto
The day has finally come: it's time to move in to your college dorm. You're all packed up and ready to hit the road, but little do you know that despite all the preparation you've done, move-in day is inevitably chaotic.
To help you navigate the traffic, overpacked elevators and crowded hallways, here are a few tips to keep in mind as you come to campus on move-in day.
Be an early bird — or be late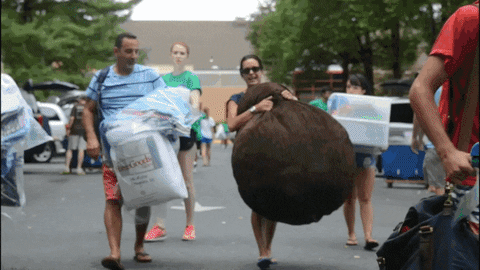 The crowds will start earlier than you think. No matter how early you plan on arriving to campus, you're bound to run into a line or two on your way in.
However, there is a benefit to packing up the night before and jumping into the car early the next morning. You'll have to wait less time to check-in and get your key, which means you'll be in your new dorm room hanging string-lights before others on your floor.
If you happened to schedule yourself for the last orientation session, you'll have the luxury of moving in before most other students. This session is typically comprised of primarily international students, but there are always a handful of transfer students and freshmen present as well.
If you can not get in early, it may be beneficial to wait until the end of the weekend to avoid stress-inducing crowds. The downside to this is of course having less time to unpack, decorate and secure books and supplies for your first day of class.
Snag a cart!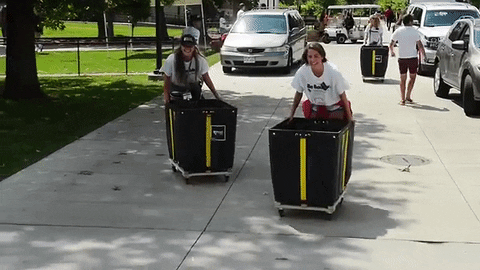 Unsurprisingly, these carts — usually lined yellow or white — are a lifesaver. Instead of hoping you somehow develop superhuman strength so you can lug your boxes and luggage out of the car and into your room, secure yourself a cart.
This is especially important if you are moving into a room on a higher floor. It may be doable to take the stairs up to the second, third, or fourth floor, but any further and you'll need some extra oxygen and a protein shake to recover.
You'd be surprised how much of a workout you'll get hauling your belongings into your room in the first place. If you can avoid it, save that energy for emptying boxes, making your bed and taking that last-minute trip to Target or Staples to quickly snag all the things you forgot.
Relay it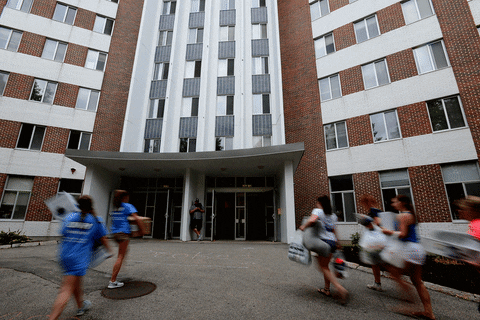 If you have help moving in from a parent, a sibling, a friend or a combination thereof, there's no need to try to shove all your piles of stuff into your dorm room in one or two trips. It's common knowledge that dorm rooms are synonymous with limited space, so don't overcrowd too quickly.
Try taking turns carrying stuff from the car while another person unpacks. Or, if you can persuade your parent or sibling to do all the hauling, start unpacking things into your drawers and desk to quickly empty boxes as they enter the room. Remember, you can always reorganize later, so just focus on clearing floorspace.
As stressful as move-in day can be, it is simply the first of many problems to deal with in your college career. Welcome it as a challenge and remember to soak in all those firsts — your first day on campus as an official freshman, your first time unlocking and entering your room, your first time meeting your roommate face-to-face — all these moments make up the first memories of your college life and you won't want to forget them.