You can now listen to Beyoncé's 'Lemonade' wherever you want
By Michal Shvimer
Finally, Spotify loyalists — such as myself — and Apple Music users may revel in the glory of Beyoncé's album "Lemonade," which was released on the streaming services exactly three years to the day after its original release on April 23, 2016.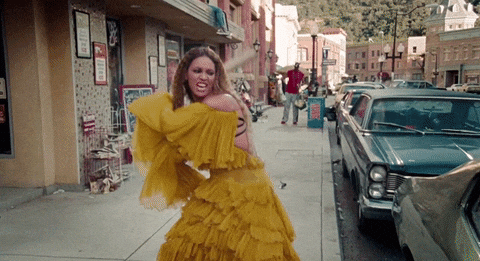 Queen Bey's redemption album was previously only available on Tidal, the music streaming service partially owned by Beyoncé and her husband, rapper Jay-Z. As of yesterday, it is now available on all major streaming services with a never-before-heard track!
The original demo version of "Sorry" is available to listen everywhere, but I much prefer the finished cut.
In true Beyoncé fashion, her fanbase, the Beyhive, is left to wonder why she changed her mind about only streaming the album on Tidal. She has not been clear about her intentions surrounding the release, but how many of us even have the time to wonder when "Lemonade" is now so easily accessible?
You don't question the queen — you just thank Her Grace for her generosity. And then blast "Hold Up" on full volume.
If Beyoncé had given us the most incredible live performance & not released Homecoming on Netflix, Dayenu
If she had released it on Netflix but not given us the live album, Dayenu
If she had given us the live album but not made Lemonade available on Spotify, Dayenu

— Sarah Kay (@kaysarahsera) April 23, 2019
Given that it is Passover season, I thought I should include this jewel of a tweet. "Dayenu" is a song Jewish families gather to sing on Passover. The Hebrew word roughly translates to "that would have been enough," essentially meaning that God did the absolute most taking the Jews out of slavery, out of Egypt and into the Holy Land. Well similarly, our Goddess did the most for us.
So now that "Lemonade" is readily at our fingertips, let's remember a few key components that went into this album that will enhance our experience.
The album is broken into 11 parts: "Intuition," "Denial," "Anger," "Apathy," "Emptiness," "Accountability," "Reformation," "Forgiveness," "Resurrection," "Hope" and "Redemption," chronicling Beyoncé's journey after Jay-Z's infidelity.
Now, there was a lot of back and forth surrounding Jay-Z's affair. But after a clip surfaced of Beyoncé's sister Solange hitting Jay-Z in an elevator, the affair was hard to deny.
When Beyoncé forgave Jay-Z, everyone was surprised. Even Jay-Z himself expressed surprise, gratitude and guilt in his 2017 track "4:44."
Since the release of "Lemonade," the couple has gone on their On the Run II Tour together, had twins Rumi and Sir Carter and even released a studio album called "Everything is Love"
under their duo name "The Carters." The most recognizable song from the album is "APES**T."
From the heart wrenching ballad "Sandcastles" to the empowering track "Freedom," Yoncé takes us on a personal journey. Now, she has made that journey accessible on all platforms, and may I say, it's about damn time.