REVIEW: Ariana Grande's 'MONOPOLY'
By Michal Shvimer
Ariana Grande has been throwing out new music like candy, and we've been eating it up. Despite being in the middle of her "Sweetener" concert tour, on Monday — no April Fool's joke — the pop diva released a brand new single, turning our eyes and ears on her sexuality because of a particular lyric in the song.
"MONOPOLY," featuring singer Victoria Monét, has been dubbed a "bisexual bop" because of its post-chorus, when Ari sings "I like women and men." Having already generated more than 3.4 million plays on Spotify, Arianators are turning to Twitter to find out if Ari really means what she says.
so ariana is bi…..this just confirm my theory that no one is 100% straight

— 𝒸𝓁𝒶𝓇𝒶 (@keepnbreathinn) March 31, 2019
did ariana just come out as bi

— 𝙨𝙞 ♡ (@kissthesvn) April 1, 2019
One lucky fan, however, got a response from the queen herself:
i haven't before and still don't feel the need to now 🖤🧚🏼‍♂️ which is okay

— Ariana Grande (@ArianaGrande) April 1, 2019
It's worth noting that music artists aren't obligated to let us into their personal lives, but until this point, Ari has been fairly candid with the intention of her music. She has shared her pain in losing a loved one, she has let us in on her journey of self-acceptance and she has even revealed more about her sex life than we needed (but wanted) to know.
But we're not entitled to make sense of her sexuality. Especially when it's not something she feels the need to make sense of.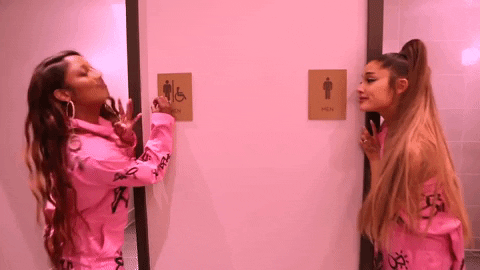 The song has given us more to celebrate than our newfound chances of hooking up with Ariana Grande. "MONOPOLY' embraces our fast-paced media culture by coming into our lives and our playlists when we were least expecting it. The description for the video simply reads "a thank u to them fans." You're welcome Ari, and thank YOU.
The music video is not as excessively high-budget like "thank u, next" or as as exceedingly elaborate as "7 rings," which is precisely what makes me appreciate it. Ariana's latest hits have been boasting consumerism and wealth, whereas "MONOPOLY" is all the fun without all the bling.
Rather than showing off expensive alcohol and couture, Ariana and Victoria show off their femininity and success rejoicing in their friendship. Now that's something everyone can get behind.