Boston Cheese Party: Devlin's vs. Mmmac n' Cheese
By Krystle Boyajian
Mac and cheese is undeniably delicious, no matter if it's homemade, out of a box or from a five-star restaurant. It's the best because it's delicious, easy to make and has endless possibilities for "add-ins." If you couldn't tell, I'd take any excuse for more mac and cheese in my life. So, I made it my personal goal to find the best in Boston.
For the past couple weeks, I have been scouring Yelp to find restaurants in Boston with amazing mac and cheese. With the help of my boyfriend and fellow mac and cheese lover, Matt, I will soon find the best mac and cheese the city has to offer.
This is the first part of a several-part quest to find the true reigning champion.
Rules: We will order two mac and cheeses at each restaurant, one plain and one specialty. Each order will be rated in five categories: first impression, cheesiness, creaminess, size and specialty. The first four categories will be for the plain mac and cheese, while the specialty category will be for the specialty mac and cheese. The restaurant with the highest overall score will be the winner.
Devlin's
Location: 332 Washington St. – Brighton
Order:
Mac + cheese (side): cornbread crumble

$7.00

Mac + cheese skillet: bacon, jalapeno, cornbread and pulled pork

$16.00
Ratings:
First impression: 6.5/10

Cheesiness: 6/10

Creaminess: 8/10

Size: 2.5/10

Specialty: 6.5/10
We ordered Devlin's from GrubHub on Friday night, and their mac and cheese was a great launch point in our journey to finding the best. That goes to say, it was not the absolute best. Our biggest complaint was the size. We did not judge the side for size, only the "skillet" entree. Unfortunately, we were still hungry after our meal with no chance of leftovers. Half of the tray was full of salad, and the mac 'n' cheese wasn't to the top of the tray to make up for it.
Devlin's biggest success points were the creaminess factor and cornbread crumble. The creaminess was above average and impressive for the lack of cheesiness. The cornbread was a nice touch to switch up the texture. The specialty, featuring a combination of bacon, jalapeno, cornbread and pulled pork, was delicious and overall better than the plain cornbread side.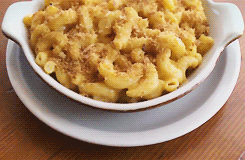 Mmmac n' Cheese
Location: 4 S. Market St. – Boston
Order:
The Classic American Mac (large):  American cheese, cheddar cheese

$8.00

The Cajun Mac (large): sausage, peppers, onion, cajun spices, American cheese, cheddar cheese

$11.50
Ratings:
First impression: 9/10

Cheesiness: 10/10

Creaminess: 9.5/10

Size: 10/10

Specialty: 9.5/10
We visited Mmmac and Cheese Saturday, and it was the highlight of our day. These ratings are high, but if a mac and cheese-based restaurant didn't get high ratings, then it probably shouldn't be in business. What stood out about Mmmac and Cheese was their use of spices in their Cajun Mac. The spices blended the sausage, peppers and onions into the macaroni and cheese itself so it became a complete meal rather than mac and cheese with stuff in it. Mmmac only could have been improved by adding different types of cheese to mix up the flavor a bit in the plain dish.
Overall, Mmmac and Cheese won by a landslide and is currently in first place for Boston's best mac and cheese, as decided by myself.