The best part about Boston is the food. Whatever cuisine you desire, there are endless options and places to choose from, but the best meal of the day — and the most important — is breakfast. I'm here to be your guide to the best breakfast in Boston. This series is all about everything you could want out of a fun breakfast in our city, whether it's live music, affordable comfort food, decadent French toast or a unique spot to try.
I went to a restaurant so incredible that I have to do a special dinner edition of "Breakfast at Ali's" to tell you about it. Pagu, located in Cambridge, is one of the most innovative places I have ever been to, and with a tapas-inspired menu, you can get a little bit of everything. Even more of a twist, the menu is actually Japanese-inspired cuisine, unlike traditional Spanish tapas (but don't worry, it works). Of course, there's a brunch menu too, though I haven't been able to try it yet.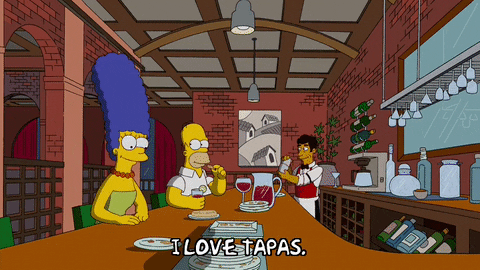 From the moment you walk in, you know that Pagu is going to be trendy. The open kitchen, community seating vibe and trendy lighting set the tone for one of the best meals of your life. The wait staff is extremely welcoming and willing to help you sort through a menu where every item seems worth ordering.
I got to sit at the bar surrounding the open kitchen, which is the best seat in the house. When you sit down you are served some of the most flavorful olives available, and has pug-inspired decor. Did I mention that Pagu means pug in Japanese? The menu is all about sharing, so be sure to bring some friends and family with you. It's also user-friendly, with a Japanese-English dictionary of the menu items on the back page, right next to the pictures of the pugs doing some yoga-inspired poses.
My favorite menu item was the chicken katsu. The delicious fried chicken, topped with a very fragrant curry sauce, was cooked to perfection, and makes for an incredibly perfect bite. As an ode to brunch, I also ordered the cheesy wafflato, which was as incredible as it sounds. The Curry Crab Croquetas, in more of the Spanish theme, were some of the best I ever had. The gooey cheese and crunchy crust made for a heart-warming experience. The Guchi's Midnight Ramen, the pork belly bao and pan-avocado are also high on the Ali-approved list.
For a unique experience that's more than just a great meal, check Pagu out.