A fangirl's guide to New England landmarks
Stars Hollow, Central Perk and Constance Billard School for Girls are fictional places created for some of our favorite characters in shows that take place in the northeast. Most of the scenes from "Gilmore Girls," "Friends" and "Gossip Girl" were filmed in Los Angeles studios, but here are some iconic spots are only hours from Boston University.
"Gilmore Girls:" Washington Depot, Connecticut
The little town of Stars Hollow, Connecticut is only a 30-minute car ride from Hartford, and 40 minutes by bus, according to "Gilmore Girls," but the show was actually filmed in Warner Brothers Studios in Burbank, California. As the story goes, in October 1999, creator Amy Sherman-Palladino and her husband Daniel Palladino took a trip to Connecticut and found the little "fairy town" of Washington Depot. Washington Depot has the small community feel: town hall meetings, a diner, bad cell service, a ballet studio, an adorable inn and fun seasonal festivals — everything that Sherman-Palladino later made iconic in Stars Hollow. In October 2016, Washington Depot hosted the first "Gilmore Girls" Fan Festival. I'm thinking about starting a petition to make that an annual thing.
"Friends:" New York, New York
The apartments of Monica, Rachel, Phoebe, Chandler, Ross and Joey can be visited in Greenwich Village near the New York University campus. Although you can only stand outside and take a picture of the apartment from the show, maybe imagine a long poking stick made of chopsticks extending from Monica and Rachel's window into the building next door. There is a small Mediterranean restaurant, The Little Owl, at the base of the building right where Central Perk would be. I dare you to go in and ask for a coffee and pretend to talk about being 20 and thriving.
Address: 90 Bedford St., Greenwich Village, Manhattan
Although the real theme song sequence (featuring that famous fountain) was shot in a studio in LA, tour guides claim that the Cherry Hill fountain in Central Park is the muse. Bonus tip: if you are an "Unbreakable Kimmy Schmidt" fan, this is the place where Kimmy and Dong reenacted the intro to "Six White Complainers." Feel free to jump into the fountain and go swimming like David Schwimmer, but the New York City police might come to shut you down like they did to Kimmy and Dong.
Address: Central Park (mid-park, off 72nd St.), Upper West Side, Manhattan
Sir D's Lounge is not in the show, but it is the closest thing to being in the real life Central Perk in New York. It is massive, with comfy furniture and room for you and your friends to lounge around and share crazy stories. They also have open mic nights, so if you get lucky, you might catch the next Phoebe Buffay. I'll be the one requesting "Smelly Cat."
Address: 837 Union St., Park Slope, Brooklyn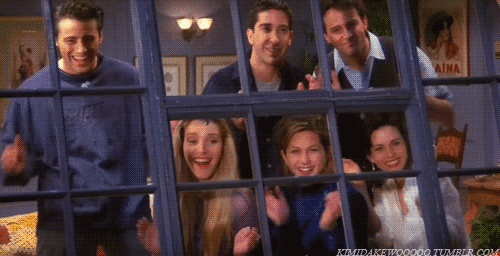 "Gossip Girl:" New York, New York
If you're in New York, you have to check out the iconic steps at the Metropolitan Museum of Art, where Blair and her squad ate lunch during school and threw all the shade. Necessary items for your picnic on the steps: something designer, a headband and witty commits ready for any occasion. And right down the street is the Museum of the City of New York, where the front door of the Constance Billard School for Girls and St. Jude School for Boys was set.
Chuck Bass and the Van der Woodsen family all live in New York Palace Hotel. The restaurant Gilt was also inside the hotel and is known for the scene where Serena makes a grilled cheese sandwich with truffle. Sadly, the restaurant if now closed, but that will not stop me from making that bougie grilled cheese.