The Obamas vs. the Trumps
The Obamas vs. The Trumps
When Barack Obama left and Donald Trump took office, we were left sad, thinking of all the cute couple moments that the Obamas shared during their time at the White House. Let's see how Trump and his wife compare with the Obamas.
Pride in being seen with their wives
The Obamas: No matter what the event is, he is excited to show her off and be there with her. Not only is it super, super cute, it's also nice to have a president who is so proud to support his First Lady.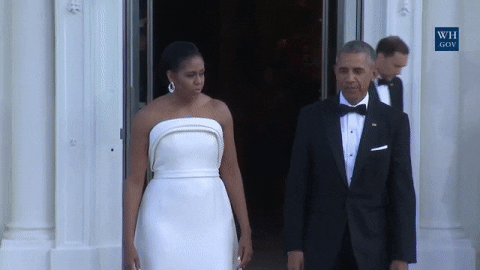 The Trumps: Shockingly enough, Trump also did something very similar with Melania. Looks like cute couple moments are not exclusively for the Obamas.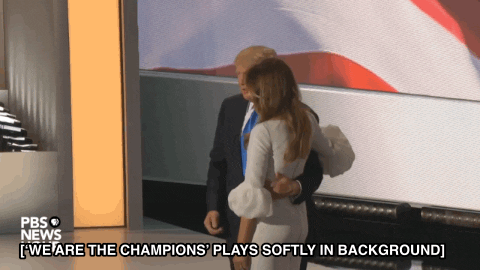 Dances shared together
The Obamas: The dances the Obamas share are the cute kind that only come from years and years of happy togetherness, even just in the way they cutely move with each other and the looks on their faces. It's truly heartwarming.
The Trumps: Donald and Melania look a bit, well, stiff. She doesn't look too pleased to be held close to him, but I guess it is a bit uncomfortable to dance live in front of millions of viewers. Maybe that's just her resting face? Who knows.
Body language
The Obamas: Although Barack always has to get his job done, he seems to always do it with Michelle close to his side. It's so sweet to see him wanting to be close to his lovely wife. He doesn't need to act so comforting, but considering how much she's done for him and the country, she deserves to be right up there with him.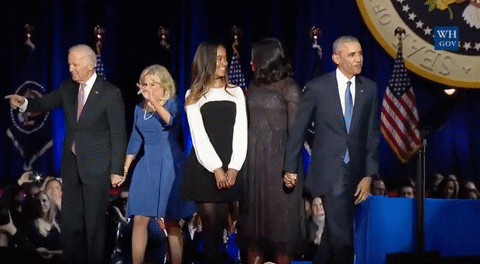 The Trumps: Trump seems really good at pulling other women close to him. He's always had a beautiful woman at his side, but it hasn't always been his wife. Not so sure how Melania would feel about these things, but she seems to support him to the end.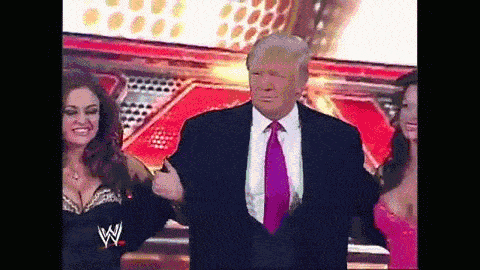 Family ties
The Obamas: We've seen Obama's two daughters grow from small children to young women who have internships and summer jobs on Martha's Vineyard. Through these years, Barack has always kept his family strong and together. It's always sweet to see families getting along and growing together, especially when they've spent eight years of their lives in the public eye.
The Trumps: So does Donald, just in a weirder way. Can't say I've had my dad touch my butt, but we all parent in different ways, although Ivanka's little arm that is pulling away doesn't scream "comfort."
Love
The Obamas: Barack has given us eight years of his life, and Michelle was always with him no matter what. They are truly a couple that we aspire to be.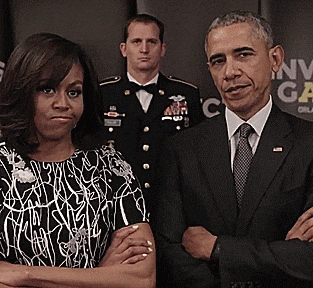 The Trumps: Well, I guess after thinking the media was out to get him, I'd have some trust issues, too. But checking on Melania's vote? C'mon man, you can't be serious. Have more faith in your wife. Unreal. Maybe the Obamas can stay in office for a few sessions of couples counseling for you guys.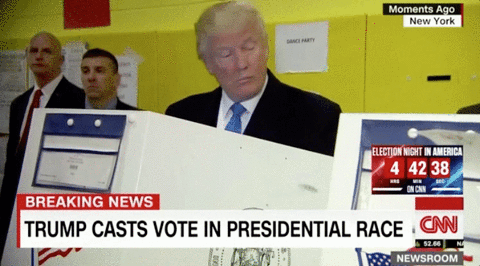 It seems that until the end of time, Barack and Michelle will be the cutest couple who have ever lived in the White House. At least they provided us with multiple memories to live off of until another cute couple enters our hearts. Thank you, Obamas. It was truly an honor watching you all succeed.